Asian stocks fell as a stronger yen weighed on Japanese exporters and Toshiba Corp. tumbled on reports it would post a record loss.
The MSCI Asia Pacific Index declined 0.4 percent to 129.24 as of 9:21 a.m. in Tokyo. Japan's Topix index dropped 0.9 percent after the yen strengthened 1.1 percent against the dollar on Friday. The regional benchmark gauge is down 6.3 percent this year, on course for its first back-to-back annual declines since 2002, as a commodity rout deepened and investors speculated Chinese authorities will need to increase stimulus to support economic growth. The loss would be more than twice that for the Standard & Poor's 500 Index, which has dropped 2.6 percent in 2015.
"The problems that have been affecting both markets and the global economy for months remain in place," said Stewart Richardson, chief investment officer at RMG Wealth Management in London. "Commodity prices remain low, corporate debt remains too high and emerging markets continue to struggle. Furthermore, although Federal Reserve Chair Janet Yellen continues to characterize the U.S. economy as strong, it does appear to be slowing down."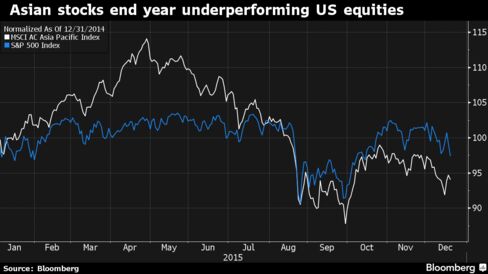 Toshiba sank 8.9 percent, on course for its lowest close since 2012, after reports it would post a record 500 billion yen ($4 billion) loss in the current fiscal year on costs related to an accounting scandal, layoffs and sales of business units.
South Korea's Kospi index gained 0.1 percent. Australia's S&P/ASX 200 Index rose 0.3 percent, as did New Zealand's S&P/NZX 50 Index.
Asian equities retreated Friday as investors shifted from relief after the U.S. Fed's interest rate hike to disappointment over plans by Japan's central bank. The Bank of Japan modified its stimulus program to lengthen the average maturities of government bonds it buys and unveiled new measures to purchase exchange-traded funds. Governor Haruhiko Kuroda said the changes were designed to make it easier for the BOJ to maintain its current policy and didn't constitute additional easing.
The safe-haven yen held most of its biggest gain in more than a week Monday amid a continuing rout in the price of oil. West-Texas intermediate crude declined 0.7 percent after posting a third week of losses to trade at the lowest level in more than six years. Energy shares in the regional Asia equity index gained 0.3 percent.
In Hong Kong, futures on the Hang Seng and Hang Seng China Enterprises gauges lost at least 0.5 percent, while those on the FTSE China A50 Index were down 0.2 percent.
Futures on the Standard & Poor's 500 Index rose 0.3 percent Monday. The underlying gauge closed 1.8 percent lower on Friday, completing its worst two-day slide since Sept. 1. The U.S. equities gauge extended declines in the final 15 minutes of trading and volume soared because of a quarterly event known as quadruple witching, when futures and options contracts on indexes and individual stocks expire.
@bloomberg.com – Asian Stocks Retreat as Yen Weighs on Japan, Toshiba Tumbles