While plenty of ink has been devoted to China's slowdown this year, the world's second-largest economy is still on track to grow somewhere close to 7 percent.
That's almost triple the forecast U.S. rate, nearly five times the eurozone, and more than 10 times Japan's expected clip, according to economists surveyed by Bloomberg News .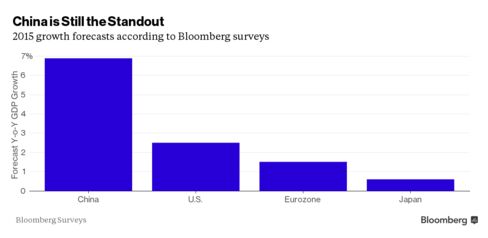 So why all the angst over China?
When this year's forecast growth rate of 6.9 percent is compared with the average 10 percent level of the prior 10 years, a gap of 3.1 percentage point arises. That's comparable to the slide seen in the U.S. in 2008 and Japan in the early 1990s.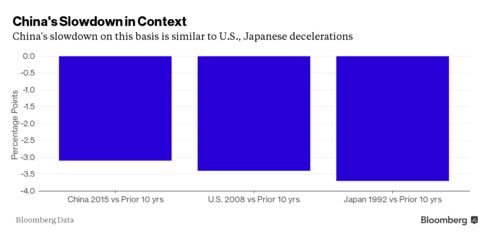 From that perspective, the hand wringing is a function of China's past success, with the world accustomed to double-digit growth rates from the awakening dragon.
To be sure, as a huge developing economy, China's pace of growth would be expected to outstrip its advanced economy peers. But even against BRIC counterparts, China's 2015 performance compared with its prior 10 years looks steadier.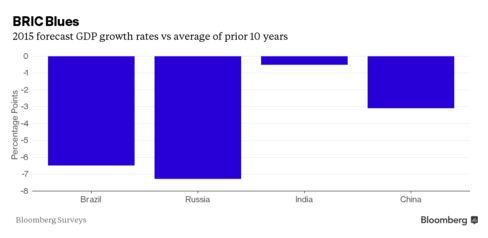 The key question is where to from here. Whereas Japan in the 1990s continued to grind lower, the U.S. has seen growth begin to revive since 2010. Economists see China's growth trickling lower in the years ahead, according to a December Bloomberg survey of economists.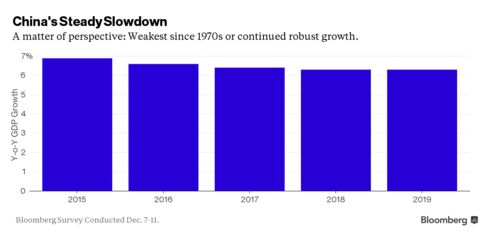 For the glass-half-empty crowd, that puts China on path for the weakest era of growth since the 1970s, while for the half-fullers, it's another stretch of robust and steady expansion.
@bloomberg.com  – China's Slowdown in Context