The worst start to a year for global financial markets sparked the biggest weekly outflow of cash from equity mutual funds since September.
Investors pulled $8.8 billion from funds that track stocks around the world, according to data collected by Cambridge, Massachusetts-based EPFR Global Inc., as the weakening of China's currency rekindled concern that slowing growth there would spread. Redemptions at U.S.-based stock funds hit at a 17-week high, with investors favoring funds that target Europe and Japan, where central banks have pledged continued support, data for the week ended Jan. 6 show.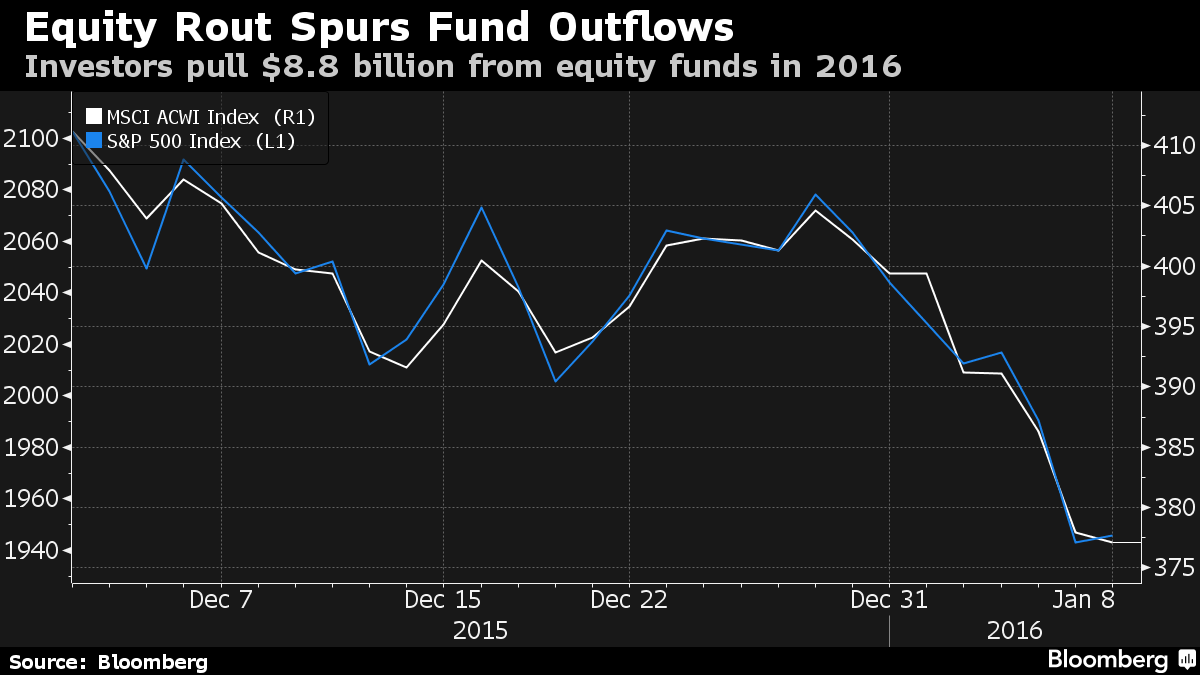 "As was the case in early 2015, mutual fund investors tip-toed rather than sprinted into the new year," Cameron Brandt, research director at EPFR Global, and his colleagues wrote in a report released Friday. "Their caution was quickly justified as another spasm in Chinese equity markets rippled through global stock exchanges."
The Standard & Poor's 500 Index is on track for its worst-ever five-day start to the year and its worst weekly performance since the August equities selloff, while the MSCI All-Country World Index has plunged more than 5 percent this year. China spurred market turmoil amid renewed concerns that its sinking yuan reflects weakness in the world's second-largest economy that could spread to other regions.
In the U.S., large-cap exchanged-traded funds saw the heaviest redemptions, according to EPFR. Meanwhile, nine of the 11 major U.S. sector funds tracked by EPFR saw outflows during the period, with technology posting the most at $570 million. Industrial sector funds saw a fifth consecutive week of outflows, the most since early 2015.
@bloomberg.com – Investors Pull $8.8 Billion From World Equity Funds in 2016 Rout