Crude oil's slump has been so severe that it's now threatening the government-aided biodiesel programs in the world's top producers of palm oil.
Indonesia may miss its target of raising blending to 20 percent if crude stays below $30 a barrel, according to Fadhil Hasan, executive director at the country's palm oil association. The slump in crude will impact the implementation of the biodiesel program in Malaysia, the nation's Plantation Industries and Commodities Minister Douglas Uggah Embas told an industry conference in Kuala Lumpur. The two nations account for 86 percent of the global palm oil supply.
Oil is down about 21 percent this year amid volatility in Chinese markets and speculation the removal of restrictions that capped Iran's crude sales will help to prolong a global glut. That's sent the premium of crude palm oil over low sulphur gasoil futures to almost $290 a metric ton from the five-year average of a $13 discount. That's clouded the outlook for palm oil prices, according to Thomas Mielke, executive director of Oil World, an industry researcher.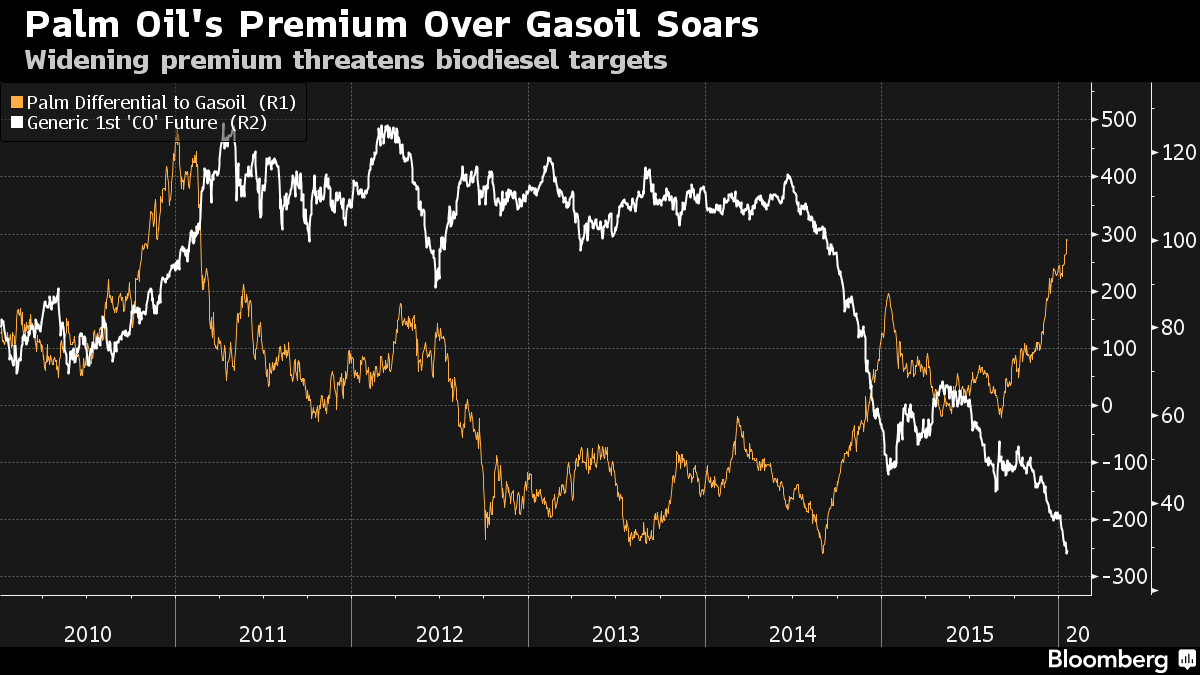 "This is one of the big uncertainties," Mielke said in interview in Kuala Lumpur on Tuesday. "To what extent will the widening price premium of biodiesel over fossil fuels reside in lower-than-expected biodiesel consumption? This is one of the swing factors we have to watch."
Subsidy Burden
Palm oil futures rose 9.7 percent in Kuala Lumpur last year on concern the strongest El Nino in almost two decades and a haze from Indonesia's forest fires will cut supplies. Futures rose 0.1 percent to 2,473 ringgit a ton on the Bursa Malaysia Derivatives by 5:44 p.m. local time. Brent crude ended 39 cents lower at $28.55 on Monday, the lowest close since December 2003.
"If crude oil prices remain at $30, B20 program cannot be sustained in Indonesia," Fadhil said in Kuala Lumpur. "With the continued decline of crude oil prices, the amount of biodiesel that has to be subsidized per liter has increased."
The government subsidy may rise to 5,000 rupiah (36 cents) per liter from 2,230 rupiah per liter, Fadhil said. The government may face a shortfall of 2 trillion rupiah in biodiesel subsidies, estimated at total of 18 trillion rupiah for this year, he said.
The Malaysian cabinet will discuss next month the B10 mandate that was expected to absorb 1 million metric tons of palm oil, Embas said. The country has capacity to produce 2.6 million tons of biodiesel, he said.
Crude palm oil production from Malaysia may rise only 0.7 percent to 20.1 million tons this year as the effects of El Nino impact crops, Choo Yuen May, director general of the Malaysian Palm Oil Board, told the Kuala Lumpur conference. Prices may rise in 2016 "helped by a modest recovery in the global economy in the second half of the year," she said.
http://www.bloomberg.com/news/articles/2016-01-19/oil-rout-threatens-to-scupper-demand-for-palm-oil-in-biodiesel