The pound fell to its lowest level since 2009 after Bank of England Governor Mark Carney signaled that a boost to U.K. interest rates is still some way off.
Britain's currency had been climbing before his comments, buoyed by a report showing inflation accelerated last month to the highest in almost a year. Sterling reversed its gain versus the dollar, and fell against all but one of its 16 major peers, after Carney used his first speech of the year to highlight global risks and persistent factors weighing on U.K. price growth.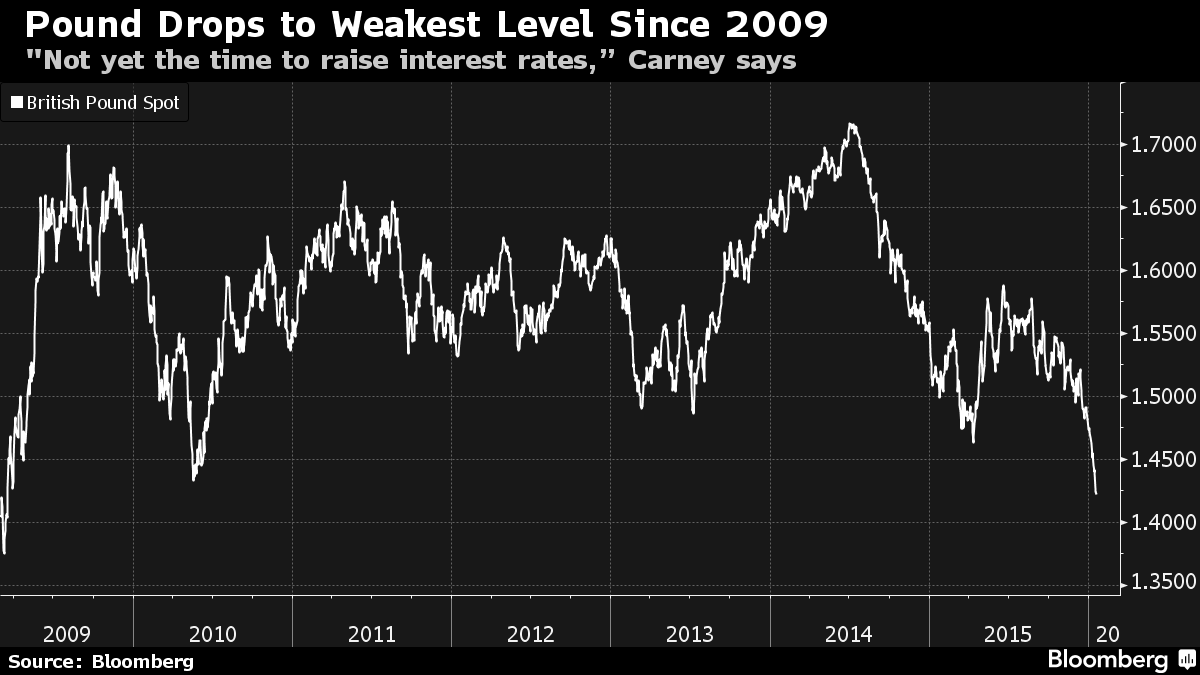 Even before he spoke, forward contracts based on the sterling overnight index average, or Sonia, showed traders weren't fully pricing in a quarter-point increase to the U.K.'s 0.5 percent main rate until after March 2017.
"It adds some weight to the idea of no rate cut until 2017," said Neil Jones, the London-based head of hedge-fund sales at Mizuho Bank Ltd. "I doubt if we are done yet for the pound selloff. I sense there's a good chance for more downside."
The pound dropped as much as 0.3 percent to $1.4207, the lowest level since March 2009, and was down 0.2 percent at $1.4217 as of 2:07 p.m. London time. It was little changed at 76.49 per euro, after surging 0.8 percent earlier.
Sterling initially jumped as much as 0.7 percent against the dollar, the most in six weeks, after the Office for National Statistics said annual consumer-price inflationquickened to 0.2 percent in December, compared with the BOE's 2 percent target. The core inflation rate, which excludes volatile food and energy prices, climbed to 1.4 percent, beating the 1.2 percent forecast in a Bloomberg survey of economists.
Oil's Drop
The U.K. 10-year break-even rate, which measures the bond market's outlook for price growth, rose for the first time in four days. It climbed five basis points, or 0.05 percentage point, to 2.31 percent. The rate fell to a 6 1/2-year low, based on closing prices, of 2.26 percent at the end of last week amid a slump in oil.
The inflation outlook helped keep government bond yields higher, even after Carney's speech. The 10-year gilt yield rose four basis points to 1.73 percent. The 2 percent security due September 2025 dropped 0.315, or 3.15 pounds per 1,000-pound face amount, to 102.415.
'Brexit' Risk
The pound has tumbled 7 percent versus the dollar over the past two months amid a shaky economic recovery and the planned vote on Britain's membership of the European Union.
A report due Wednesday will show average weekly earnings growth slowed in the three months through November, while retail-sales data later in the week will show a contraction, economists predict.
"One average data point doesn't really change the game or picture in terms of the U.K. inflation outlook" said Viraj Patel, a currency strategist at ING Bank NV in London, said about the CPI report. "Today has highlighted the key headwinds for sterling, which are a very soft inflation outlook, a dovish BOE and Brexit-focused risk. That's why we had Carney come out a bit more dovish."
http://www.bloomberg.com/news/articles/2016-01-19/pound-falls-to-lowest-since-2009-after-carney-comments-on-rates