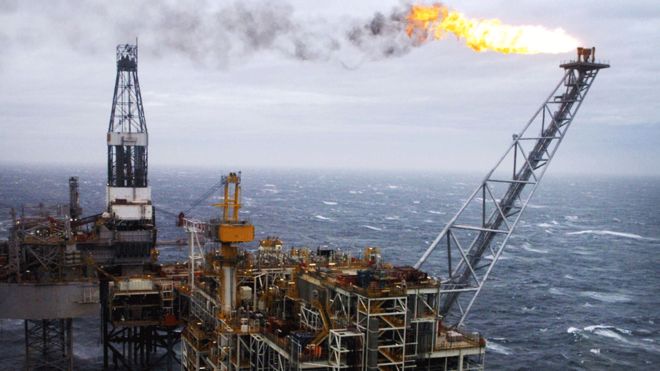 Investment in new offshore oil and gas projects is collapsing despite cost-cutting efforts, according to a report.
Industry Body Oil and Gas UK said that less than £1bn was expected to be spent on new projects this year, compared to a typical £8bn per year in the last five years.
Its new 2016 activity survey said this was despite costs dropping.
Oil and Gas UK said exploration remained at an all-time low with no sign of improving.
The survey said the industry's drive to improve efficiency, reduce operating costs and increase production has had "marked success".
'Coherent approach'
And success per exploration well drilled in 2015 was the highest for 10 years,
However, the industry body warned if the oil price remains at about $30 for the rest of 2016, more than 40% of all UK Continental Shelf (UKCS) oil fields were likely to be operating at a loss – deterring further exploration and investment.
The number of fields expected to cease production between 2015 and 2020 has risen by a fifth to more than 100.
Deirdre Michie, Oil and Gas UK's chief executive, said: "The UKCS is entering a phase of 'super maturity'.
"While the industry's decades of experience provide great depths of knowledge and expertise which can be applied to recover the still significant remaining resource, the report highlights the challenges that the falling oil price poses in our capability to maximise economic recovery of the UK's offshore oil and gas.
"The basin has to compete fiercely in the global market to attract price-constrained capital to the UK.
"A coherent approach by the industry, regulator and government will be critical to boost the industry's competitiveness and its investors' confidence.
"Together we need to transform the basin into a highly competitive, low tax, high activity province, which is attractive to a variety of operators and sustains and supports the important supply chain based here."
She added: "We have a huge task ahead but the prize is worth fighting for."
'As tough as it gets'
Oil industry veteran Sir Ian Wood acknowledged the current downturn was "probably as tough as it gets" but said it was "completely wrong" to think that the North Sea oil industry was finished.
He told the BBC's Good Morning Scotland programme: "We produce about 44 billion barrels and there is a view that there could be another 20 billion to come, so it's almost a third still to come.
"I think that's a bit high but it could be 15 to 16 billion barrels to come, so there's a huge prize out there and it's quite wrong to think that the North Sea is finished. The North Sea will recover.
"I'm prepared to guarantee in the next four or five years we won't perhaps be back to where we were but we will be back to a pretty active, strong industry with a lot of prospects ahead of it."
http://www.bbc.com/news/uk-scotland-scotland-business-35630242