Hong Kong residential home sales plunged 70 percent in February from a year earlier to a 25-year low, as falling prices and economic uncertainty deterred buyers.
In February, 1,807 homes were sold in Hong Kong, compared with 6,027 a year earlier, according to government statistics. Home sales fell from 2,045 in January, the data show.
"The newspapers keep on saying the market is going down and buyers think they can get a cheaper house half-a-year later or one year later so are waiting," said Thomas Fok, a property agent at Centaline Property Agency in Hong Kong's upscale Mid-levels West district where he hasn't made one sale this year.
Property prices have declined 10 percent from their September highs amid uncertainty over the economy at home and in China, possible interest-rate increases and
plans
by the government to boost housing supply in the next five years. Senior Hong Kong government officials have ruled out relaxing property curbs, which include extra stamp duties and caps on mortgage levels.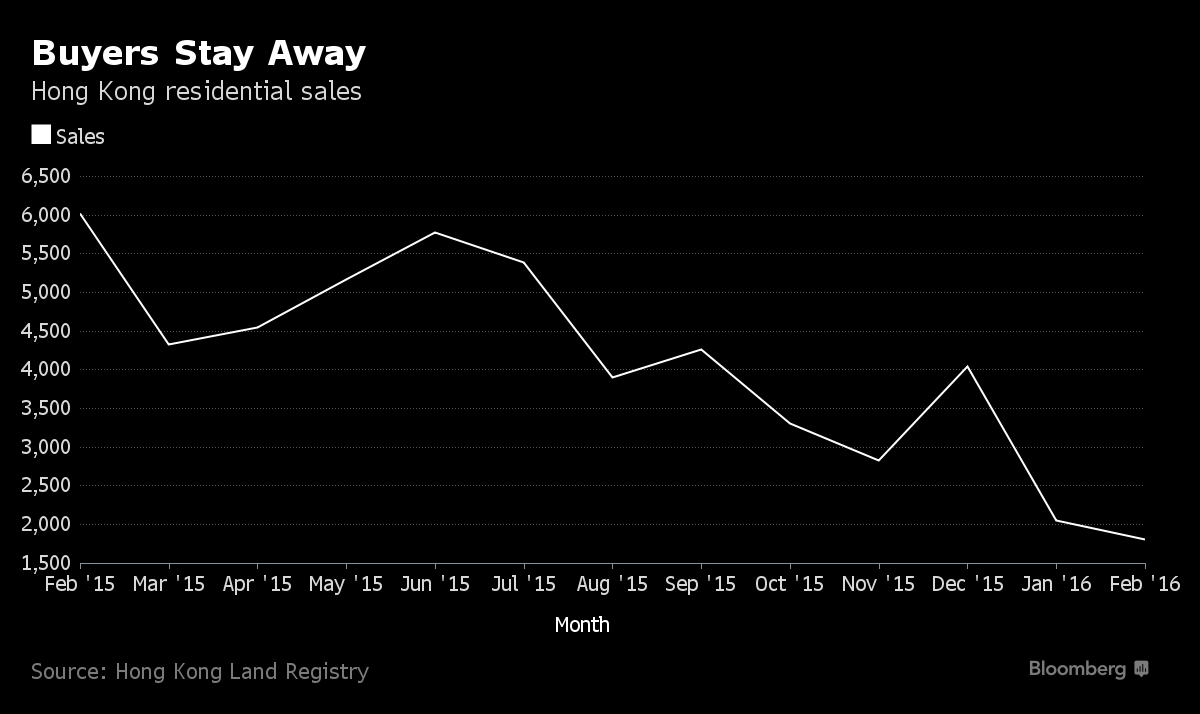 The slowdown is prompting some Hong Kong developers to slash targets. Sun Hung Kai Properties Ltd. cut its full-year contracted sales target in Hong Kong by 18 percent to HK$27 billion (about $3.5 billion). New World Development Co. reported that contracted sales plunged 79 percent in the first half of its fiscal year to HK$2.8 billion, achieving just 28 percent of its full-year sales target.
Home prices in the city surged 370 percent from their 2003 trough through the September peak, spurred by low mortgage rates, tight supply of new units and buying from mainland Chinese. This year, BOCOM International Holdings Co. property analyst Alfred Lau has said prices could fall 30 percent amid a slowdown.
http://www.bloomberg.com/news/articles/2016-03-07/hong-kong-residential-sales-plunge-70-as-slowdown-intensifies