Nailed it.
Elon Musk's SpaceX landed its Falcon 9 rocket upright on a drone ship bobbing in the Atlantic Ocean for the first time ever — a key milestone toward the company's goal of reusing rockets.
SpaceX's Falcon9 rocket and Dragon spacecraft, laden with supplies for the International Space Station, blasted off from Cape Canaveral, Florida at 4:43 p.m. New York time Friday. But for the company's employees and more than 80,000 people watching SpaceX's live web cast, the real excitement began when Falcon 9 completed its burn, began its descent and perfected a vertical landing on the drone ship for the first time.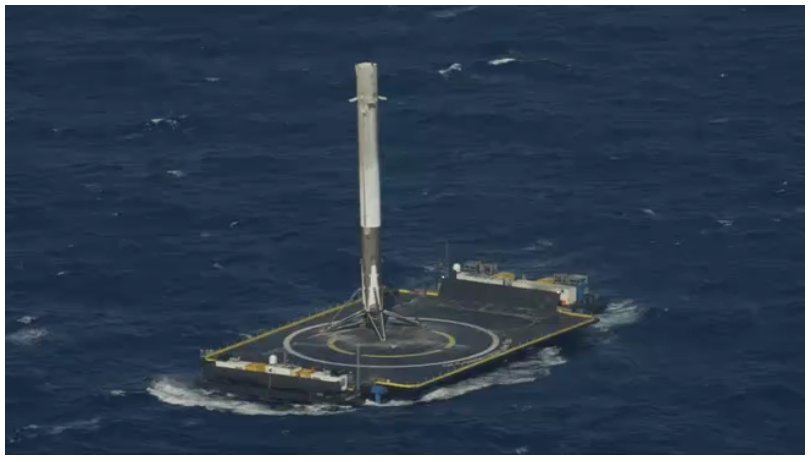 Congrats to the @SpaceX team & @ElonMusk! Way to stick the landing & send #Dragon to @Space_Station. https://t.co/TCJCQljJBZ

— NASA (@NASA) April 8, 2016
"1st stage has landed on Of Course I Still Love You," SpaceX said in a tweet, naming the ship. The company's drone ships — there are two — are a nod to the late Scottish science fiction writer Iain M. Banks.
SpaceX made history in December by successfully landing the first stage on land but had yet to complete the same goal on a ship. Four previous attempts were marred by "hard landings" and video footage of fiery explosions. Reusable rockets that land themselves — unlike the traditional model in which the rocket is left to burn up on re-entry — are a critical aspect of reducing the cost to reach orbit. Musk has said that a fully and rapidly reusable rocket is the only way to enable humans to travel to and from Mars.
The company webcasts each of its launches, and young engineers provide running commentary. This time, however, the screams of excitement and joy from the SpaceX's headquarters in Hawthorne, California, overrode the commentary.
SpaceX has said it expects to have 18 launches this year, three times the number of missions flown in 2015. Ocean landings are critical for SpaceX going forward. While some rockets can return to land, factors like the size of the payload, amount of fuel, orbits and trajectories make ocean landings necessary.
"The rocket landed instead of putting a hole in the ship or tipping over, so we are really excited about that," Musk said during a post-launch press conference Friday with the National Aeronautics and Space Administration. "About half of our missions will need to land out at sea."
SpaceX's Dragon cargo capsule is ferrying 7,000 pounds of supplies, science experiments, and technology demonstrations to the space station, an orbiting science lab. Friday's launch marks SpaceX's first mission to the space station since last June, when Falcon 9 blew apart 139 seconds after launch. An initial investigation into that mishap pointed to a 2-foot-long, 1-inch-thick strut in a liquid oxygen tank that snapped.
http://www.bloomberg.com/news/articles/2016-04-08/musk-s-reusable-rocket-dream-comes-true-with-drone-ship-landing