Elon Musk's plans for the car industry promise to disrupt yet another market – platinum.
But it's not just Musk. Pretty much every carmaker is rushing to introduce electric cars to end use of gasoline and diesel. As consumers switch, demand for the metal – essential to stripping toxic emissions from tailpipe exhausts – declines. With diesel already suffering from the Volkswagen emissions scandal, the future looks increasingly bleak. Even Saudi Arabia is preparing for a post-oil era.
"It's a long term risk to platinum, electric battery vehicles don't need any platinum at all," Marc Elliott, an analyst at Investec Plc, said by e-mail from London on Wednesday. While he sees a decade-long transition through hybrid vehicles, which may use platinum, he says battery-electric cars are most likely to take over. Last year, almost one of every two ounces of platinum used worldwide was sold to the auto industry, from mines primarily in South Africa and Russia.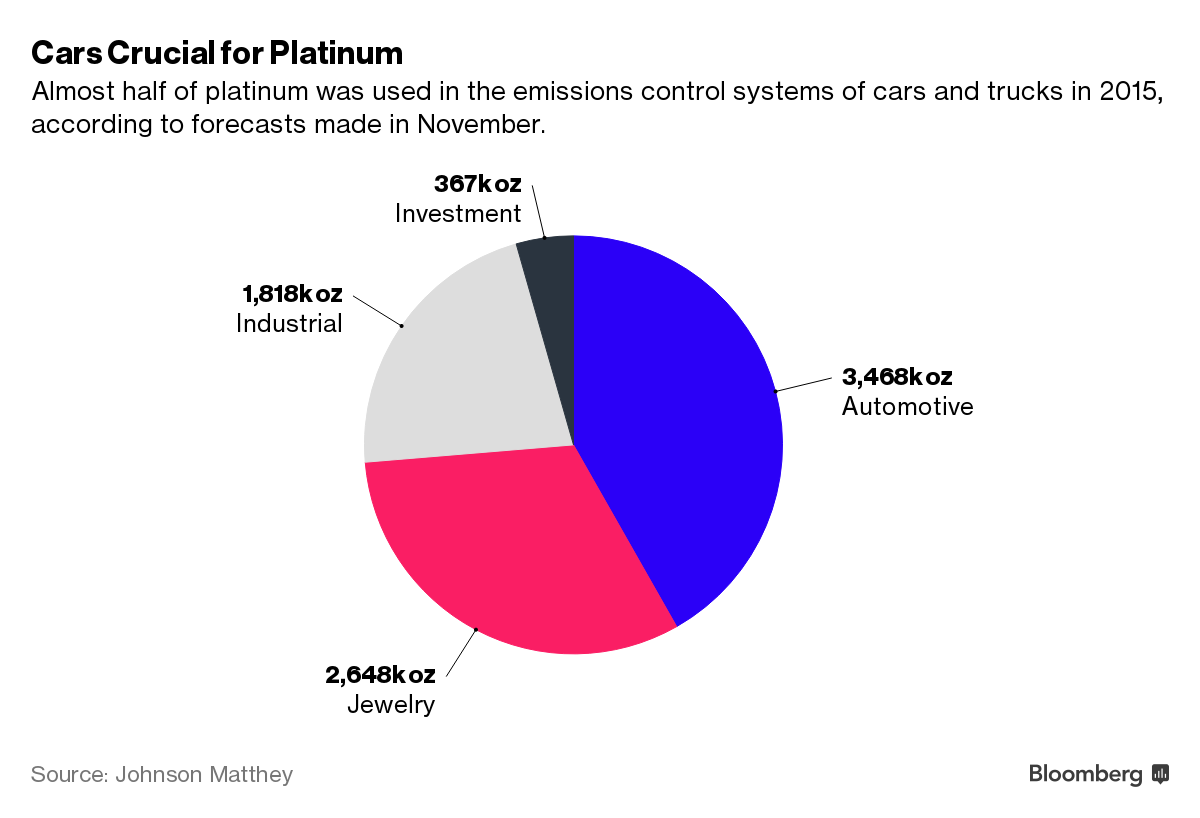 Governments are offering subsidies for drivers to switch, and carmakers are introducing models that cost less and travel further than ever. Customers literally lined up to order when Musk in March unveiled a $35,000 Model 3, while Chevrolet this year will sell the Bolt, a $37,500 electric car that can cover 200 miles on a charge. Germany, Europe's biggest auto market, last month announced 1.2 billion euros ($1.4 billion) in incentives, with one-quarter of that money going toward a nationwide high-speed charging network. U.S. consumers get a $7,500 government tax credit.
"It's not all about Tesla anymore," according to Andrew Miller, an analyst at Benchmark Mineral Intelligence Ltd. in London. "There's a whole load of battery-manufacturing expansion happening in China, Korea and Japan." He said hybrid and full electric vehicles may make up around 5 percent of the car market by 2020.
That said, the industry's demise is neither imminent nor certain. Producers and carmakers are researching platinum-consuming hydrogen-fuel cell alternatives, which may challenge the supremacy of current electric cars. The metal may remain part of the energy mix beyond 2050, with uses in hybrid technologies, according to the International Energy Agency.
http://www.bloomberg.com/news/articles/2016-05-05/oil-isn-t-the-only-commodity-threatened-by-tesla-s-rise